Archives by date
You are browsing the site archives by date.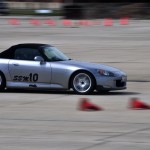 Posted on March 27, 2010
3/27 Spring Brake, Final Results 3/27 Spring Brake, PAX 3/27 Spring Brake, Raw Times Adrian Astorina and I were the co-event chairs for the very first CCSCC autocross event of the 2010 season. For the most part, things went well, at least when it wasn't raining. Well, at least all of the things that I […]
Posted as: 2010 Autocross Season, Autocross Reports
Posted on March 23, 2010
"Who Speaks!" So what does that mean? In these days of CCSCC's success, no one except Jimmy Hamilton appears to remember my original CCSCC nickname. (His was "bear"). It seems in past times, when they announced my name at the awards after an event no one could pronounce "Rowe", pronouncing it like "row", as in […]
Posted as: Editorials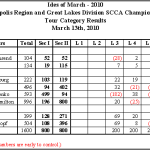 Posted on March 13, 2010
The Ides of March Rally was a joint rally between CCSCC and the Indianapolis Region SCCA. Chuck Hanson was the rallymaster for the event.
Posted as: 2010 Rally Season, Rally Reports