Place

__

Driver/Navigator
Vehicle

__

Leg
1

_

2

_

3

_

4

_

Total
SEAT OF PANTS CLASS
1st
Seth Baker/Jonathan Flora
Mazda Miata
18
9
31
36
94
2nd
Brian Grable/Sandy Grable
Ford Explorer
19
30
22
25
96
3rd
Mike Blackwelder/
Jim Hamilton
Ford Contour
3
22
100
100
225
NOVICE CLASS
1st
Eric Wank/Sean Hayes
BMW M3
100
45
100
55
300
Was the time right for anyone for the Right Times Rally? Well, if that question means were my calculated times correct I'm assuming that they were (but without any Navigational class entrants with onboard rally computers to double check me I can't be certain). If the question means "did anyone arrive at a checkpoint at the right time" you can see from the above results that there aren't any zeros (but a couple of cars came close). If the question means "was September 24, 2010 the right time to put on a rally that featured all right turns and repeating instructions" then perhaps not. At the very least the 24th must have been a bad date for a road rally as it apparently didn't fit into very many folk's schedules (except for the 4.5 teams that came). At the worst folks might have stayed away because they thought that all those right turns might be too boring or the repeating instructions too complicated. My best guess is that folks were just busy doing something with a higher priority than a road rally.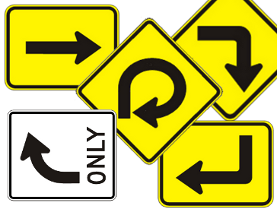 Anyhow, no matter what the case was with the timing, the rally did consist entirely of right turns as advertized and there was also the additional twist in that most instructions had to be repeated multiple times. This resulted in there only being one page of 17 route instructions for 51 miles of rally. Further complicating matters was the fact that six of the seventeen instructions were used for the odometer comparison zone at the start of the rally and three were used to end the concluding Do It Yourself (DIY) leg and get to Monical's for the awards. That left only eight instructions to guide the entrants through the real meat of the four legs of the rally.
Just to keep those eight repetitive instructions from getting too boring I threw in another twist in that some instructions called for counting a different number of opportunities or stop signs for each of their iterations. This was done by putting a +1 or -1 following the X2 or X3 that followed the instruction to tell how many times to repeat it. In other words a "Right at 3rd OPP X3 -1" meant for contestants to go right at the third opportunity, then right at the second opportunity then right at the first opportunity before moving on to doing the subsequent numbered instruction. While no one had any trouble with this some folks had other problems.
One of them being a failure to read the General Instructions.  At every rally contestants receive a two or three page set of general instructions regarding the standard and specific rules applicable for that particular rally.  This puts first time rallyists on an equal footing with all the regulars.  In this case the navigator was the only one who read the General Instructions.  Thus, instead of the rally team operating as team where each member could double check the other member only the navigator knew that when they turned onto an interstate highway the team was to up their average speed to 62.  Because the driver didn't know this and the navigator forgot it that team found themselves going north on I-57 at 42 miles per hour.  Yep, that cost a team who should have known better 100 points.
Another problem that was encountered was that the novice navigator glanced at the checkpoint slips for checkpoints 2 and 3 to see what instruction to work on when leaving them. What he didn't notice was that instead of saying "Next Route Instruction: 10" they said "Working on Route Instruction: 10." Not only that but both checkpoint slips also had "Other Information" that indicated what clues for the execution of the instruction had already been encountered. Yep, starting all over looking for clues got them off course. Fortunately they spotted this oversight in time to go back and restart the DIY leg. In any case this is surely another example of why both team members should read all the printed materials, including the checkpoint slips, so that they can double check each other and thereby improve the results for their team.
Many thanks go to Mike Blackwelder for the use of his car and rally computer to do the mileaging. Thanks also go to Brian Ford for doing the cold run and to him and his wife Judy Garnson for their help with the checkpoints and scoring.
Jerry White, Rallymaster