Posted on October 21, 2015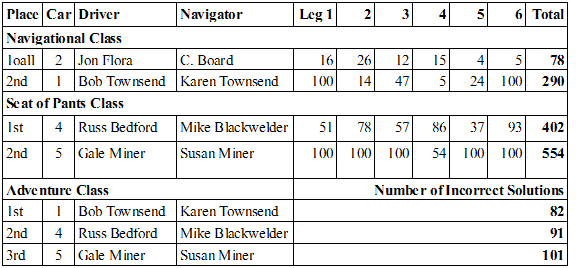 I'll get the write up of the rally posted here as soon as I get it done.
Jerry White
Rallymaster
Posted as: 2015 Rally Season, Rally Reports | Leave a response
Posted on June 29, 2015
Date: Saturday, June 20, 2015
Rallymasters: Bob Townsend, Gale Miner
Cold run:
Workers: Karen Townsend, Sue Miner
The rally was one of the most challenging rallies put on by the club in recent memory, at least for the rallymasters. Unseasonably rainy weather had caused the roads along rivers to rise over their banks. Bob went out on Friday and checked the route, and only found one road that was impassable necessitating a change to the course. However, even though the rain subsided the rivers continued to rise, flooding the course and making it necessary to flag down the cars on US36, and caravanning to the start of the next leg. The leg was short lived however. Car one telephoned the rallymaster and stated that this leg was also impassible, and was told to send the cars to Walnut Point State Park for the break and the restart. At the restart, Bob left ahead of the pack, and soon discovered that the next leg was also covered with water. Another caravan ensued, and finally the last leg was completed. Over half of the rally route had been eliminated, the part with the fun roads.
All of the cars completed the rally, and snacks or ice cream was enjoyed at the park. At the finish, a picnic and refreshments were served at the Townsend's. First time rallyist Deb and Mike Eperling seemed to catch on real fast, and had some very decent scores. Lots of food was available, since we had prepared for a bigger turnout, so Bob and Karen ended up with a lot of leftovers. Bob reported seeing lots of wildlife, including a deer, blue heron, turtle, humming birds, and a hawk snatching a baby bird from a nest. Bad day for the bird, too.
We had a tie for first in the navigational class, and first was determined by the most zeroes, and the DeMeritts came out on top.
Driver/
Navigator
1
2
3
4
5
6
Total
NAVIGATIONAL CLASS
1st
Bob DeMeritt
Marianne DeMeritt
0
4
–
–
–
2
6
2nd
Bill Wagner
Jonathan Flora
1
3
–
–
–
2
6
3rd
Wayne Hamilton
Jerry White
12
17
–
–
–
12
41
SEAT OF PANTS CLASS
1st
Russ Bedford
Mike Blackwelder
10
45
–
–
–
6
61
NOVICE CLASS
1st
Deb Erpelding
Mike Erpelding
28
59
–
–
–
100
187
Posted as: 2015 Rally Season, Rally Reports | Leave a response
Posted on March 23, 2015
Date: Sunday, March 15, 2015
Rallymaster: Bill Wagner
Cold run:
Workers: Austin Grant
Since I disappointed myself last year by not getting the rally done, I was determined that it would go off this year. We had really good weather and a great turnout with seven teams appearing to test their skills. Some folks already had a couple of rallies in the bag this year because of the 2 Winter Rallies in January and February.
Gary Patrick held one of his rally schools just before the event. It was well attended and appeared to have assisted the novices who had some pretty good scores. The novices made all the checkpoints and the winning team of Williams/Peterson even used a time delay slip to keep 4 of 5 leg scores below 100. That is a great accomplishment for their first rally. I expect we'll see them at future rallies and even some autocrosses. The team of Burkholder/Burkholder made a good showing as well. If they could have brought their high score down close to their best legs they would have made it really close.
The SOP class had some tight competition. After 2 legs the Miner/Miner team was in control with a 23 point lead over Martin/Lichtenberger. Their scores of 4 and 2 were excellent but they weren't able to maintain that over the last 3 legs. Martin/Lichtenberger kept the pressure on finishing the rally with 2 single digit scores on the last 3 legs. At the end, the 2 teams were separated by only 23 points with Martin/Lichtenberger finishing in first place. Third place was taken by White/Hamilton and fourth by Bedford/Blackwelder who didn't score as well as I expected.
The Nav class only had one team, Townsend/Flora, who put on a really good show with ones on all legs except the last. We determined after the rally that I must have mis-measured one tiny section that caused them to score 12 on leg 6. Somehow my measurement was about 0.1 miles off from what they showed in their computer.
I must thank Gary Patrick for letting us use the Subaru of Champaign County showroom for the rally school and registration and for putting on the school before the rally. Hopefully we can have one or two more schools this year. I also want to thank Austin Grant who came over from the Peoria area to attend the school and see how rallies are run. He spent the afternoon in the car with me at checkpoints and made the day go by quickly.
Driver/
Navigator
1
2
3
4
5
6
Total
NAVIGATIONAL CLASS
1st
Bob Townsend
Jonathan Flora
1
1
1
0
1
12
16
SEAT OF PANTS CLASS
1st
Emanuel Martin
Peter Lichtenberger
15
14
1
0
25
2
57
2nd
Gale Miner
Susan Miner
4
2
24
0
28
22
80
3rd
Jerry White
Wayne Hamilton
5
31
63
0
27
3
129
4th
Russ Bedford
Mike Blackwelder
12
38
23
0
16
55
144
NOVICE CLASS
1st
David Williams
Caleb Peterson
58
7
138
0
13
84
300
2nd
Cathy Burkholder
Bill Burkholder
17
102
200
0
76
56
451
Posted as: 2015 Rally Season, Rally Reports | Leave a response
Posted on November 7, 2014
Date: Friday, October 31, 2014
Rallymaster: Bill Wagner
Cold run:
Workers: Bob Townsend
Well, I didn't get the publicity out as soon as I should have, so the turnout was smaller than I would like, but I went ahead with the rally. This wasn't a tough rally since the teams only had to find 7 instructions in the candy bags. I also made the evil numbers easier to work with this year. I think I need to find something in between for next year. Thank you to Bob Townsend for hanging out in the dark at the checkpoint. Congratulations to Jerry White and Wayne Hamilton for finishing with a nice 1st Overall score of 36.
Driver/
Navigator
1
2
3
Total
SEAT OF PANTS CLASS
1st
Jerry White
Wayne Hamilton
16
12
8
36
2nd
Russ Bedford
Mike Blackwelder
6
100
9
115
3rd
Jonathan Flora
C Board
100
17
39
156
4th
Gale Miner
Susan Miner
100
17
56
173
Posted as: 2014 Rally Season, Rally Reports | Leave a response
Posted on September 16, 2014
Date: Sunday, September 14, 2014
Rallymaster: Russ Bedford
Cold run: Mike Blackwelder
Workers: Mike Blackwelder
It was a great rally. Not because of any innate skill by the rallymaster (me), but because of the competitors who showed up and played. We had a beautiful day, light traffic, reasonably good roads. And I was ably assisted by Mike Blackwelder, who has a lot of experience at this.
We started in Mahomet and angled somewhat West and North. Drove around Saybrook, through the shadow of a bunch of Windmills, found Bellflower and Farmer City. We took a break midway at Huck's in FC. After the break we drove West and South, crossing Clinton Lake a couple times before heading back East. We went through DeLand, near Lodge, Galesville and Seymour.
The rally finished back in Mahomet, at Monical's, where we had dinner and awards. About 100 miles and 4 hours.
Eight cars entered, with 15 people in them. (No, that ratio doesn't meet the normal rally formula of 2 people per car, more on that later). Trust me, it really makes a difference when a lot of people show up.
Jerry and Barry took first overall, they've teamed up for a while now, this their first first overall. Congratulations!
Gary Patrick was looking for a partner, but couldn't find one. He went ahead and ran anyway. His co-driver was listed as either C. Board or MT Seat. Either way, it did the trick, he came in first in SOP.
No teams ran in the Novice class.
Thanks to all who participated and to Mike B for cold-running and working with me.
Driver/
Navigator
Total Score
NAVIGATIONAL CLASS
1st
Barry Rowe
Jerry White
24
2nd
Jonathan Flora
Bill Wagner
27
3rd
Bob DeMeritt
Marianne DeMeritt
33
4th
Bob Townsend
Karen Townsend
54
SEAT OF PANTS CLASS
1st
Gary Patrick
C. Board and MT Seat
329
2nd
Gale Miner
Susan Miner
438
3rd
Jeremy Kendall
Becky Kendall
470
4th
Jill Siedenburg
Joe Siedenburg
766
Posted as: 2014 Rally Season, Rally Reports | Leave a response