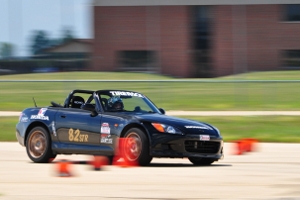 Have you ever wanted to explore the limits of your car in a safe, controlled environment? All you need for autocross is a street-legal car in good working order. Autocross is a sport where drivers compete for the fastest times on a course marked by cones. There is only one car on a section of the course at a time, with courses laid out in open areas with few obstacles. Speeds normally stay under 65mph. As a result, autocross is an excellent way to safely learn car control skills.
CCSCC follows nationally recognized SCCA rules and classes. There are Novice classes for new drivers. Club members are always happy to help novices, so be sure to ask if you have any questions regarding rules, procedures, or course following.
Events are held at Rantoul Aviation Center and Parkland College. See Autocross Event Sites for details. The current year's autocross schedule and results are available on our website: Autocross Schedule and Results. Below are the entry fees and the daily schedule for all autocross events unless otherwise noted in the schedule. It is extremely important that drivers arrive early; no late registration will be allowed, period.
2018 Entry Fees
$30 for CCSCC or SCCA members for their 1st event in a weekend, $20 for 2nd event in a weekend
$35 for students with valid ID for their 1st event in a weekend, $25 for 2nd event in a weekend
$40 for all others for their 1st event in a weekend, $25 for 2nd event in a weekend
$FREE! for spectators
$10 fee per day for walk-up registration! Pre-register online: (Click Here)
We do not require online payment. Pre-registered participants are welcome to bring payment to the event.
NOTE: At the Parkland scholarship events, ALL participants pay the non-member entry fee for their 1st event in a weekend.
Daily Schedule
Registration: 8:00am — 9:30am
Tech Inspection: 8:30am — 10:00am

Guided Tour of Course or "Rookie Walk-thru": 9:30am
Drivers Meeting: 10:00am
First Car Off: 10:30am
Preregistration / AXWare Online Race Management (ORM)
Click Here for a set of ORM "How-To" videos on YouTube. Substitute CCSPORTSCARCLUB wherever you see HSCC. Individual video links are provided below:
Minor Waiver
Parents with minors must sign a separate waiver of liability to gain entry to the site. We have copies available at the gate, or you can download the CCSCC minor waiver: Click Here.
2018 Autocross Committee
| | |
| --- | --- |
| Position | Name |
| Chair | Jedi Brown |
| Steward | Dennis Miller |
| Steward | — Vacant — |
| President | Pete Stynoski |
| Vice President | Dean Plumadore |
2018 Drivers Information